Complete the 4hr BDI/TCAC traffic school online, or with a live class in the Orlando area, Jacksonville, and Brandon FL.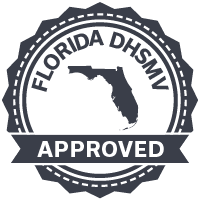 STATE APPROVED TRAFFIC SCHOOL
REMOVES THE POINTS FROM YOUR LICENSE IF YOU ELECTED THE CLASS WHEN YOU PAID YOUR TICKET WITH THE COUNTY
NO TEST, SO THERE IS NO WAY TO FAIL THE LIVE CLASS
FOOD AND DRINK ARE INCLUDED WITH THE LIVE CLASS
YOU RECEIVE YOUR CERTIFICATE AT THE END OF LIVE CLASS
Live classes are available once again! You can text us, book online to reserve your seat.
LIVE TRAFFIC SCHOOL
In person classes are interactive, so there is no test for the live class. Live classes are available in the surrounding Orlando area, Jacksonville, and Brandon FL. currently. No test, Food and drink included. Receive your certificate at the end of class.
ONLINE TRAFFIC SCHOOL
The Online course is 4hrs broken up into timed chapters. You can complete it in your time frame, and you can get your certificate in the mail after completion, or if you are in a rush emailed certificates are available as an upgrade.
STATE Approved FLORIDA TRAFFIC SCHOOL
Why take a 4 hour test when you can take an interactive live class instead? Get all the knowledge without the risk.
Our Courses
4 Hours long as required by the State of Florida.
Fast, Convenient, Safe
Online or in person we care about your safety, and are following all Florida restaurant requirements. Bring a mask, and enjoy the class.
Modern Tools & Courses
The online course is full of useful information, interactive diagrams, and videos that will help you get reacquainted with some of the laws that Fl has passed. 
A Team Who Cares
We are focused on bringing you the friendliest customer service from start to finish. If you have a question please ask. We are happy to help.

"Steve was Amazing! I learned so much about the Laws that I had completely forgotten, or just never even new. I'm so glad I chose the live class. It went by so fast!"
Jane Martinez
"Jose is a pro. He really cares about the students safety, and it shows. The class was wonderful. I don't ever plan on getting a ticket again, but if I do then I know exactly where i'm going to take the class. Great Job"
Mark Sanderson
"This class was so much better than sitting in front of a computer for 4 hours. Anthony kept us engaged in the class, and is very helpful with getting us all the answers we needed. I recommend anyone taking this class ticket or no ticket."
Brad Walton
Frequently Asked Questions
What is it that we get asked the most?
Getting a ticket can be stressful. Maybe it's your 1st ticket, or maybe it's been a while. Most people don't usually stay up to date on what the courts require if someone else gets a ticket, so we've compiled a list of Answers to questions we get most often.
How do I know if I'm eligible to attend a traffic school ?
You are eligible to elect a traffic school once every 12 months, and up to five times in your lifetime. You can look up your eligibility on the state of Florida website FLHSMV
How do I pay my ticket, and notify the county ?
You have 30 days to pay and elect a traffic school. You can pay for your ticket in most counties through their website, in person (call them for availability) or through the mail. If you want the points off your license make sure you tell them you are choosing to elect traffic school when you pay the ticket. They will give you an additional 60/90 days to complete the course. If you don't tell them then they close your case, and add the points to your license for 3 years.
If I take the class do I still have to pay the ticket ?
Yes. The county gives you 30 days to pay your ticket and elect to take traffic school. Once you have elected the class they will give you an additional 60/90 days to complete the course and return the certificate to them.
How many points is my ticket ?
Your ticket will most likely be a 3, or 4 point violation. If you didn't have a crash and your ticket is less than $200 dollars then that's most likely a 3 point ticket. If you had a crash then it's 4 points even if the ticket was only $160. If you didn't have a crash, and the ticket was over $200 then it's most likely a 4 point violation. Now if you left the scene of a crash, or you were speeding and caused a crash in that case would be a 6 point violation.
What if I'm out of elections, or just elected ?
You do have an option too potentially have the points removed if you've already elected within the last 12 months, or have run out of elections. You do have the option of setting up a court date and pleading "No Contest" which means you are telling the judge that you plan on paying the ticket. You aren't saying you are guilty, or innocent you're just not fighting/contesting the ticket. Your goal is to have the judge court order you to take the class. a court order does not count against your elections. The judge removes the points and makes you take the class.
Clerk of the Courts Citation Lookup
USA 2020 Deaths in Car Crashes
FL 2020 Deaths in Car Crashes